Are you a contractor needing remediation work? Do you have experience with prevailing wage jobs? Whether you are a seasoned veteran of construction work with prevailing wage jobs or are just starting out, we can help.
Prevailing wages for California can be found at the website of California Department of Industrial Relations. The wages change periodically and "important notices" which outline the changes are posted to the website.
Some of the most common questions we have from contractors needing our services are as follows:
1. If we have water / flood remediation, fire damage remediation, mold and mold clearance remediation, asbestos extraction, lead abatement, containment, HEPA filtration, etc needs, how do we ensure it is completed correctly so that the job runs smoothly and is not shut down for compliance before the end of the total project?
2. What is the total amount that must be paid to a remediation company to ensure they are paying their prevailing wages correctly so that our job is not shut down for compliance?
3. How do we find a remediation company that knows their trade extremely well and knows how to comply with prevailing wage projects to ensure the job runs smoothly?
Below is an example prevailing wage job.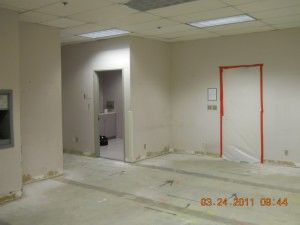 It was for a hospital that required tight containment and negative HEPA filtration pressure to ensure that dust and debris did not exit the construction site and enter into the rest of the being-used area of hospital. You can see the use of plastic and tape around the egress door. This area, the remaining egress doors, and all openings to the area were sealed off in similar fashion to allow clean air to enter and air filtered against a HEPA airscrubber to exit (outside of the building). Hospitals have special requirement for dust and debris to keep it's patience safe from the debris when construction is occurring.
We are trained to ensure jobs such as these run smoothly. We check to ensure holes are covered, HVAC units are closed off or removed, containment is setup, equipment is sized correctly, contractors know the right protocol for removing debris from the contained area to a waste receptacle outside of the building, equipment is running constantly, etc.
We referenced the guide tables noted in the website above to ensure our technicians were being paid prevailing wage, depending on their classification, day of the week, amount of hours worked in a day, holiday / non-holiday pay, etc. As a contractor, if you have a subcontractor working for you that does not pay its workers per the required amount, you could be liable for fines, delays, etc for your job.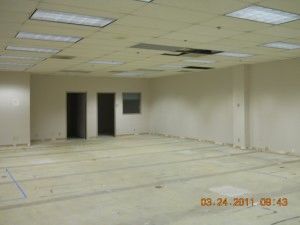 This picture shows the scope of about half the area of containment. The drop ceiling came to about 9′ tall and above that was about 3′ additional. This 3′ was the area of concern to ensure debris did not enter or exit the area when construction was being completed. The area was being renovated into a new physician's office space. If any of the hospital staff or regulators saw any debris moving from the construction site, the job would have been shut down.
Below is an example photo of what was seen above the drop ceiling. A labyrinth of pipes, HVAC, and electrial work was above the drop ceiling. In order to close this off from the adjacent rooms, an intricate system of containment was setup in that area and any holes or ducts were closed off.
Some of the constraints specific to the job that were addressed were as follows:
1. Isolate HVAC & ducts / remove
2. Negative air – HEPA
3. Isolate HVAC & ducts / remove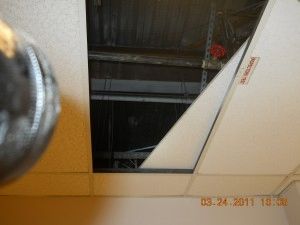 4. Cover transport receptacles / cars and tape covering
5. HEPA vac personnel if needed
6. Place dust mat at entrance and exit
7. Seal holes, pipes, conduits and punctures appropriately
8. Do not remove barriers from work area until complete project is thoroughly cleaned
We can ensure your project runs smoothly, on time, does not get shut down, and is safe for the workers and surrounding areas. We are experts in the field. Reach us to discuss your project needs. Call us today! 619.597.2003